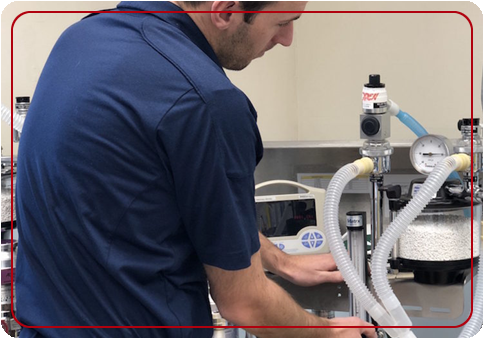 On-site Medical , Laboratory Equipment
Service & Repair
MERCO offers a full menu of services for clinics, research facilities, military, and government offices in need of new medical and surgical equipment or repairs to existing devices.
We understand the need for your operating room, rehab facility, or research laboratory to maintain functioning equipment when you need it. The prospect of saving one life in the emergency room or several through the creation of a vaccine hinges on medical devices that work.
MERCO repairs and services a large variety of medical and laboratory equipment. Our Biomedical Technicians are experienced and factory trained. For service repairs, we provide a quick repair turnaround time and take pride in our workmanship.
MERCO is here to provide you with quality maintenance and repair services, and we are an authorized dealer of some of the top brands in medical equipment. When something malfunctions, call us immediately. Our experienced technicians will have your devices operating like new.
Our Biomedical Technicians Are AAMI Certified
Our biomedical team is Certified through AAMI. Therefore, rest you can assured that your repairs, service, maintenance and calibrations are right.
In-House Biomedical Technician Services
Do you have a busy facility and need someone on-site more than the occasional repairs and scheduled inspections? MERCO Biomedical can provide an on-site technician weekly or bi-weekly, full-time days, to provide all services, inspections, repairs, consultations, and maintenance. This service has been very valuable for some of our larger facilities and may provide a value to yours. Call today for more information and discuss what would be the best value to meet the needs of your facility.
Repair Services
Calibration Services
Radiation, Imaging & Anesthesia
Preventative Maintenance
Inspection Services
On-Site Support Services
Instrument Sharpening
Rental Equipment
Installation
MERCO services a wide variety of medical and laboratory equipment. Some examples are listed below.
AEDs
Audiometers
Autoclaves
Autoclaves, Bulk
Balances
Blood Pressure Equipment
Blood Bank Refrigerators
Centrifuges
Chairs, Examination
Colposcopes
Concentrators
Cryostats
Defibrillators
EKGs/ECGs
ENT Cabinets
Exercise Equipment
Fetal Dopplers
Fetal Monitors
Hydrocollators
Hyfrecators
Ice Machines
Incubators
Infusion Pumps
Laboratory Freezers
Laboratory Furnaces
Laboratory Ovens
Laboratory Washers
Microscopes
Oxygen Concentrators
Scales (Floor & Digital)
Stimulators, Therapy
Suction Machines
Traction Units
Treadmills
Treatment Tables
Ultralow Freezers
Ultrasonic Cleaners
Ultrasound Therapy
Veterinary Anesthesia
Vital Sign Monitors
Water Baths
Wheelchairs (Manual & Electric)